Mortgage Basics with Brick mortgage
Application Checklist
Navigating the pathway to homeownership in Arizona? Brick Mortgage, led by seasoned mortgage broker Jared Halbert, simplifies this process for you. We prioritize transparency, ensuring our clients have a thorough understanding of the documentation required for their home loans.

Below is a list of documents that are required when you apply for a mortgage. However, every situation is unique and you may be required to provide additional documentation. So, if you are asked for more information, be cooperative and provide the information requested as soon as possible. It will help speed up the application process.
Get Started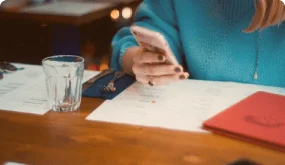 Your Property:
Signed sales contract with all associated riders.
Verification of your deposit on the property.
Contact information (names, addresses, and phone numbers) of involved realtors, builders, insurance agents, and attorneys.
If available, a copy of the Listing Sheet and legal description (for condominiums, please include the condominium declaration, by-laws, and the most recent budget).
Your Income:
To ensure you secure the best home loans in Arizona, provide:
Your recent 30-day pay-stubs and W-2 forms from the past two years.
Employment details spanning the last two years.
An explanatory letter for any employment gaps within the past 2 years.
If applicable, work visa or green card (copies of both sides).
For self-employed individuals or those with additional income streams, such as commissions, bonuses, or rentals:

Full tax returns from the last two years and a year-to-date Profit and Loss statement. Ensure the complete return, including all attached schedules and statements, is provided.
K-1's from all partnerships and S-Corporations for the past two years.
For those owning 25% or more of a business, completed Federal Partnership (1065) and/or Corporate Income Tax Returns from the last two years are essential.
Additional Income Streams:
If you're leveraging Alimony, Child Support, Social Security income, Disability, or VA benefits for your mortgage application with Brick Mortgage, provide:
A divorce decree or court order specifying the amount and proof of receipt for the last year.
An award letter from the respective agency or organization.
Source of Funds and Down Payment:
Jared Halbert and the Brick Mortgage team in Arizona emphasize the importance of clarity in your funding sources:
If selling your existing home, provide a copy of the signed sales contract and a listing agreement if it remains unsold.
For liquid assets like savings, checking, or money market funds, provide recent 3-month bank statements.
Stocks and bonds require either broker statements or certificate copies.
If using gifts for your down payment, an affidavit and proof of fund receipt are essential.
Note: Depending on your application and/or credit report, additional documentation might be needed.
Debt or Obligations:
Ensure you're prepared with:
A detailed list of current debts, inclusive of names, addresses, account numbers, balances, and monthly payments (last three statements recommended).
Details of mortgage holders or landlords from the past two years.
If you have obligations like alimony or child support, a marital settlement or court order is required.
Ensure you have checks ready to cover any Application Fee(s).
---
Brick Mortgage, championed by Jared Halbert, stands as your dedicated mortgage broker in Arizona, striving to make the complex realm of home loans straightforward and approachable.